August.. it's here and actually it's almost gone…
AHH!
And for myself unlike everyone on my Twitter or Facebook feed, I am so not ready for summer to come to an end. For me the entire month of August is like one long Sunday. I don't like Sunday's. They have never been the "day of rest" they were meant to be. For myself, Sunday's have always been a day full of homework or studying or work and dreading the coming week and I have always
hated
them. It's just one loooooong day of anticipating the equally as dreaded…
Monday
.
Meep not Monday!
August is the same thing to me. The only difference being I like Autumn much more than I enjoy Monday's. I'm looking forward to pumpkin coffee, and I'm looking forward to seeing my sisters again. I'm even looking forward to the beautiful fall days where I appreciate the changing leaves and weather of New England. BUT I am absolutely not looking forward to the school part of school. NO. N-O. All I see on my timeline is like "OH EM GEE can't wait to go back to school!!" "PUMPKIN LATTE #score" "YAY cooler weather!"
no.
I like the hot weather. You will never find me complaining about the heat and wishing it was colder. Want to know why? Because when I'm standing at the bus stop in February and its -2 outside, I will be infinitely more miserable
(and cursing PVTA)
than I am in the heat right now. ALWAYS. I have a pool that I can jump in and AC and I can cool down fairly easily. Cue the rebuttal:
"but you can't keep taking more layers off but you can always add more."
B-S. I can walk around in a bathing suit in the summer and it's normal
(ish)
. If I just keep adding layers I have to waddle around like a chubby puffy penguin with Frankenstein arms because once you put enough layers on you can't move! Not fun. Plus I hate the process of suiting up for class and then having to take all of that crap off to fit in those itty-bitty lecture hall seats. And then putting it back on for the trek across campus to my next class. BLEH.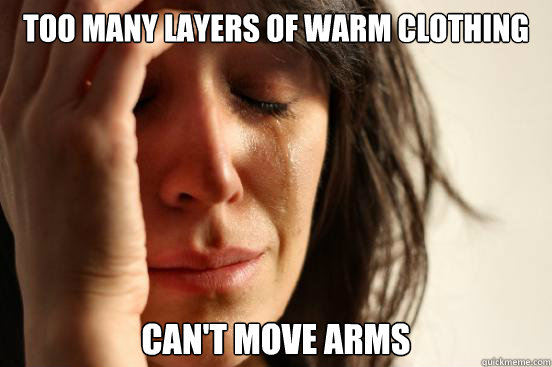 I didn't even have to make this meme… someone gets me.
More Ali beef with the colds months…
I like pumpkin flavored drinks as much as the next #commonwhitegirl but I don't love them enough to wish away all the fruity happy goodness of summer.
I like UMass and I love my sisters and my other school friends but I'm not one of those people that hates my hometown and dreads going back to my roots. I love and appreciate my family. I like where I live at home much more than I like Amherst. The mall near Amherst stinks, at home I can go to a multitude with ease. I can go to 2 cities in under and hour. I can go to the beach in less than 45 minutes. And I live right next to a major concert venue (hometown win).
BUT I know I love fall for some reasons too.
I love wearing sweaters and boots. The outfits are just so much cuter in the fall than most things you can wear in the summer.
I love pumpkin flavored drinks.
(I know I used that for both arguments.)
I love living with my best friends.
I love not sweating at least once a day (TMI?)
I also love apple flavored things and all of the fall food.
Fall = Thanksgiving approaching.
Mostly, though, I'll keep my summer and you can keep your colder weather.
Trump card: Fall means I have to leave Cooper and that cancels out any goodness fall can bring, my dog is just too cute.
Gah how can you resist that face??
So which would you choose- Summer or Fall?